Chiropractic Treatments And Adjustments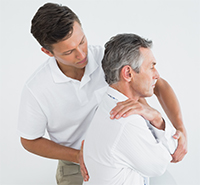 The nervous system controls everything in your body from digestion, muscle movement, breathing, heartbeat, hormone levels, vision, healing an injury, your immune system and your ability to think and perform everyday activities. Because of this, the nervous system is the most important system in the body. Chiropractic is the art and science correcting and maintaining proper spinal alignment so the nervous system can function at its maximum capacity. Spinal problems often "interfere" with normal nerve impulses resulting in altered body system function. Chiropractic medicine also emphasizes the diagnosis and treatment with problems of the spine, nervous, muscular and skeletal systems including the extremities. The Arne Wellness Center chiropractors encompass a conglomeration of techniques developed from a myriad of technique masters.
Modern family chiropractic employs numerous modalities including manipulation, and physiotherapy.  In fact, the term used to describe Dr. Arne and Dr. Spencer's technique is classified as "diversified". Physiotherapy procedures are commonly used at the Arne Wellness Center to help your injuries heal and provide pain relief. Ultrasound therapy, electrical muscle stimulation, exercise rehab, and laser therapy are all commonly employed at the Arne Wellness Center. 
For certain back pains, spinal decompression may be recommended. To learn more about our family chiropractic services or schedule your appointment, contact Arne Wellness Center today. (720) 547-3094